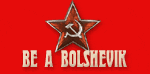 Donate - help our new project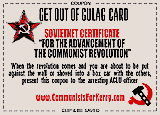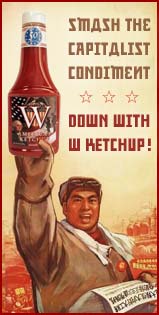 Winner of the competition of "Prettier Motherland Pages, for a Prettier Sovietnet!"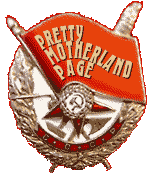 The Politburo "Award for Excellence in Socialist Webdesign in the Youth Collective" is a worldwide recognized symbol of quality for extremely advanced and progressive websites in the Sovietnet of the brother countries of the Comecon (Communist Economies)
Top Ten Reasons to Pledge Allegiance to John Kerry

* * *

10. He will stop the current economic boom created by George W Bush.

9. He will replace the "two Americas" with one homogeneous welfare state.

8. He will redistribute rich republican widows, as well as all their currency, in a way that will benefit the poorest Americans.

7. He will give every American a free health-care kit containing an aspirin, a band aid, and a free medicine ration with your choice of any eight pills.

6. He will reform education by cutting the pork infested middle man and giving the much-needed money directly to students. In turn the students may decide to either give money back to their local public school, submit their currency to the Party, or purchase high quality cocaine, thus improving the economy and creating jobs.

5. He will shut down the Guantanamo Bay, a black spot within the heart of the South American brotherhood, and issue green cards to the prisoners, as a gesture of goodwill for enduring the heartache of mistreatment by the imperialist army.

4. He will end our dependence on Middle East oil by decreeing that all American cars be run on ethanol-based fuels derived from the fruit of the tomato tree.

3. He will eliminate pollution by harnessing the exhaust of the tomato-fuel refineries, and turning it into useful and profitable ketchup.

2. He will reinstate the cut taxes to subdue the menace to society known as "the successful businessman."

1. America will collapse in less than three years as a result and we will finally take over this country, bringing the Communist Revolution to the American shores. In due time, Potyomkin will be docking at port Boston!


I cannot wait to get a position in the re-education camps!

Free Ketchup and plenty of Republican babes like Ann Coulter to oogle!

The promised land!


Yes, a day when Kerry will represent the values of both parties as one...

Oh wait, he already does that... He voted for the war and now, him being against it, we MUST vote for him!!!

Yes, free at last, free at last... Our hippy mooching now free at last.


Comrade Red Eye, these are all good points, but polls show that Comrade Kerry lags behind, even in Revolutionary strongholds such as Minnesota, home to the Voice of Revolution: Comrade Franken.

Sometimes, it is neccessary to use the velvet glove, but with time slipping away, and the gaps widening, we must use the iron fist!

The best reason to vote for Comrade Kerry is to avoid the inevitable purges to be carried out by AMSOC in the wake of our inevitable victory!

AMSOC: Purging away societies problems, critics, and enemies, for a redder tommorow!


Yes, Red America will rise! And we will drive the capitalist and right-wing pigs from the land and in its place a great communist society shall rise, one Marx and Lenin could never have dreamed of! Surely Kerry is a genius, playing both sides of the arguments like he is, and therefore gaining both votes! This man truly must be the one to unite us under one red State!


I need a new head and left arm. I lost them in the war. I fought for Hitler even though I was RUsSiAn and am now negro.


Comrades, I bring grave news! Rumors have been pouring in about Comrade Kerry's blasphemy and treason. Some claim that he has spoken of eliminating the capital gains tax, a stunning and blatant bow to the capitalist swine currently defiling the halls of government. Others say he advocates free market trade and opening up new markets in Japan and Korea, creating more avenues by which the rich, bloated capitalists can further engorge themselves. Who could imagine such betrayal? How will the party live on?


Is this for real?


I am so happy that I have found people who share my beliefs, comrades! It is up to us to stop the vicouse spread of wealth creation so we can all be poor and misrible together, by voting for comrade Kerry!!! I know many say communism has failed, before, and resulted in the death of over 100 million people, but that is all western propaganda! The same lack of intelligence that makes Americans the stupidest people in world, also makes the resitant to idelas other then evil capitolism and will assure they are the last people who will ever figure out how to land on the moon, or split the Atom!

Long live Marx, Stalin, and Kerry!


Once and for all, every Amerikan will know what its like to live with their families in small, cramped apartments, wait for months to receive the most basic of medical needs, share time with fellow party members in line when bread and milk is made available by our gracious and caring party, witness the removal of all useless television networks not touting the virtues of the Party, and witness the re-education of the self righteous. No longer will ONLY 10 percent of the population be exposed to (so called) hardship. We will suffer together. We will become stronger. We are in this together. UNITE!

Kommrade. Elitist. Re-educator. Re-distributor. YES! K.E.R.R.Y04


All your jetplanes are belong to us.


I never knew anyone could be so pathetic.



Comrade Wow, you shouldn't be so hard on comrade Kerry...he will make a great leader.



But, I should know never to underestimate the endless retardness of the general public.

I see that you are a member of the general public, and quite insensitive to mentally handicapped persons to boot. "Retardness" is not a word, and neither is

retardedness

which you may have meant.

It's fun to know that you spent so much time and effort on this site. It won't mean very much anymore in about 10 days when all the votes are counted (unless this becomes a repeat of Selection 2000) and your precious war president begins packing his bags.

The revolution will never die! We have to spend this much time on the site, or International ANSWER, George Soros, the Kerry campaign, and North Korea will stop funneling cash to us for our revolutionary activities.



The Party's Razor



Anonymous wrote
I never knew anyone could be so pathetic.

But, I should know never to underestimate the endless retardness of the general public.

It's fun to know that you spent so much time and effort on this site. It won't mean very much anymore in about 10 days when all the votes are counted (unless this becomes a repeat of Selection 2000) and your precious war president begins packing his bags.
Well said Commrad WOW. You have discovered the fruits of the Glorious Socialist Revolution that have been growning from the seeds planted in the corrupt Capatalist Pig's Education System since the mid 1960's. Our infiltrators have done their jobs well. The Proletariat has indeed been made both pathetic and retarded, so that they may accept with gratefull hearts the redistribution of wealth and the crushing of the destructive spirit of competition and consumerism.
The True Red Intelligentsia could use many more insightfull recruits like you. Join us or be left behind on the trash heap of detestable Capitalist revisionist History.
Down with the war monger Bush. Up with Komrad Kerry. His goose hangs high.


It pleases me and my fellow rump rompers to see a liberal like Kerry so close to becoming President. He's sure to free us at last to perform our unnatural acts in public without shame. We should applaud this as those of old applauded the building and development of Soddam and Gamorah. Long live the sick minded and the cowardly . Let us hide in a cave while our heterosexual brothers defend our right to be what we are by laying down their lives for us and our perverted lives. Better yet, let us display our cowardice by protesting their efforts in public.


Comrades! Why have you been so silent? Even now Comrade Boxer sheds tears for the Revolution! The Election is over when the Party says it is over! We cannot submit to these capitalist swine. Surely, the Glorious Leaders of the Revolution would not let ballots stand in the way of the Proletariot! Where is the Cultural Revolution? When will we re-educate the Peoples of Amerika?
Boris

"the bell has sounded, you can stop applauding now..."



Dear Comrade Boris:



As the result of your loyalty to the Party, you can now wear your

orange

thermal underwear on the outside of your trousers in your show of support.
More instructions to follow.
Stay tuned.



STINGING ROSA




Of course comrade Boris, soon in 2008 we will have our time again


Wow, what a stupid site. Really pretty, but really pretty stupid. What a waste of talent!

Social conscience is not communism. Wanting clean air and water for our children (and everyone else's children) is not communism. Wanting jobs from Americans for Americans is not communism. Making sure that freedom of the press is preserved, is not communism. Protecting people's rights, and the right to a fair trial in case falsely accused, is NOT communism. These are concerns that people that truly love their country, the country as its people, should have. These are concerns of the morally right.

"Democrat". n. An advocate of Democracy. A little different from this NeoCon Fascist corporate backed group that is in power for another term. Will we ever get them out? Well they seem to be changing all of the rules, so who knows.

WE DO, COMRADE! WE DO!

HAVE YOU PRE-ORDERED YOUR T-SHIRT, YET?



STINGING ROSA




"10. He will stop the current economic boom created by George W Bush."
what economic boom? please somebody prove to me that we are currently having a economic boom, especially one created by Bush


I'm confused. I thought Kerry was born a billionaire and married a billionaire capitalist (Heinz Ketchup) and continues to be a billionaire. Aren't communists againsts capitalist billionaires? If communists took over the USA Kerry would lose a lot of money as would his wife, family and friends. So why would he be a communists???? Hey Lucy, you got some splainin to do.

Good billionnaires shall be spared, like Kerry and George Soros. Everyone else shall not. Comrade Kerry was not born a billionaire. The Party does not take such revisionism kindly. Now get your shovel and go back to work.



The Politburo




LONG LIVE IGNORANCE! DOWN WITH KERRY!

Page 1 of 2 Goto page 1, 2 Next
Powered by

We've run into expenses building this site and spreading havoc on Union Square and beyond. If you like what you see, click below and donate a buck or two for the revolution!

---
Komrads who have paid for @CommunistsForKerry.com
email address can sign in here:



Komrads who want to obtain @CommunistsForKerry.com address click here



---

---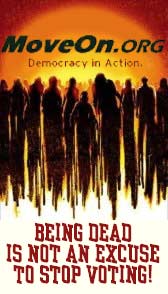 ---
Awards and medals
earned by our youth collective for this website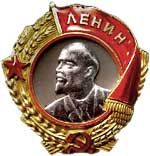 Recipients of
Order of Lenin
for heroic service to the Revolution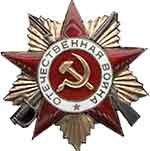 Recipients of
Order of the Great Patriotic War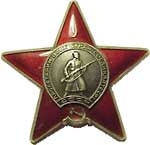 Recipients of
Order of the Red Star