Lenin exposes the bourgeois media as capitalist running mad dogs ~

Unkempt worker consults Castro about the Party-approved ways of controlling hair growth

CommunistsForKerry.com form a productive alliance with the Viacommies.
"Bwahahaha," - Komrad Castro laughs heartily. "Some fools think that Kommunism is long gone. Better think twice, baby!" Castro puffs on his cigar in his cool, playboy manner. "Our positions in Amerikan entertainment industry are so strong, the Kapitalist pigs stand no chance. All your base are belong to us!"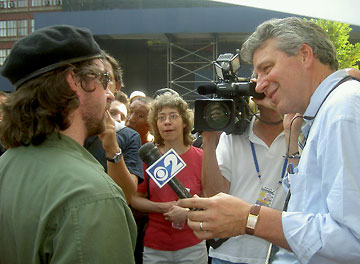 From now on, CBS is mandated to get their news and views from Communists For Kerry only. This will ensure that the correct, Party-approved information will be disseminated to the American people.

Che acts as a model of unbiased approach in the mainstream media

The masses follow Che's lead

You want us to rub him out for you guys?

The ranks of Communists For Kerry get infiltrated by members of Fags For Bush movement
| | |
| --- | --- |
| Two DNC workers lured by our glowing red communist propaganda on Soviet Union Square (8/28/04). | These two DNC workers willingly approached us to thank us for our support of John Kerry. They thought we were totally cool with our costumes, the vintage red banner, Castro's fake beard, and The Red Deal posters. They gladly posed for the picture and left with the conviction that both Communism and Kerry were good for the People. |
Testimony by Che:

Two DNC red warriors joined us in Union Square to help us register voters. They were quite happy to see us. When the young warrior asked me why we were there in such force, I told them we wanted to show solidarity on the left. We need to make sure that all people stand together to defeat the imperialist Bush regime. The young lady said to me, That's so great, it's nice to see so many diverse groups out here today supporting our candidate. I then asked them if we could take a picture for our scrap book and they gladly participated.


Two DNC workers embracing Great Leader Che. The title of the book says "BEAT BUSH."