Sept. 19, 2004 - CBS Freedom Zone
By The Politbureau
09/22/04 - 10:55 pm
Communists For Kerry Take Over CBS Building, Erect Wall Of Protection, Establish Freedom Zone, Change Fall Line-Up
---
OPERATION "CBS FREEDOM ZONE"

~

Communists for Kerry stop capitalist infiltrators
from FOX News with their so-called "investigative jounalism"
that we know is pure propaganda!


Immediately, CFK implements the following new changes in management
CBS is renamed "Communist Broadcasting System."
The inadequacy of Nielsen Rating system is replaced with the more advanced Komrad Smersh system with the remarkable result of a consistent 100% approval rating.
These changes allow for a culturally superior fall line-up of TV shows on CBS.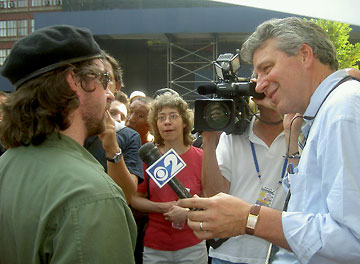 From now on, CBS is mandated to get their news and views from Communists For Kerry only. This will ensure that the correct, Party-approved information will be disseminated to the American people.
* * *

Some confused CBS employees not fully grasping the
"freedom zone" leave it's inherent safety!

We must protect CBS Employees at all cost!

Kommissar Finn and Capt. Smersh build a protective
barrier against the evil forces of capitalism so CBS
can continue to broadcast the newest truth undisturbed.

Now the Communist Broadcasting System is protected!

And CBS's integrity is now guaranteed!

CBS continues to be easily accessible for everyone
with new "Bush evidence" through "checkpoint Charlie"
(the Party credentials required).

Sadly, our protection wall against
evil capitalism cannot protect our
young on which the imperialist running
mad dogs prey.
By Daniel Rathersky
09/22/04 - 11:49 pm

Dear Comrades:

Thank you for enabling the glorious liberation of CBS! Now my comrades and I can report the proletariat's true news, without any pretense of the decadent bourgeois concepts of fairness and objectivity.

Now will you please do something about those reactionary bloggers in pajamas? Nationalize their computers or ship them all to Siberia, or something.

By Politburo
09/23/04 - 3:07 am

good work comrades ! Next -- protect our propaganda mouth-piece the NYT from the corrupt capitalist dogs.

By FOLLY!!!
09/23/04 - 6:57 am

CBS always stood for Communist Broadcast System!! How dare you doubt that it never was!

By NEW GAME SHOW!
09/23/04 - 7:03 am

Now that the proletariat has taken back CBS news and made Alexy Sharpton is cheif speechifier, I am suggesting a new game show for our glorious organ. Wait, ignore that "glorious organ" remark it sounds immoral.

Anyway brothers, the show is called "Armenian Idol". Contestants see who can most gloriously sing the praise of Marx and Kerry and Kennedy and Michael Moore. The winner receives a low paying 75 hour a week job. The losers are shot.

Also, the audience is shot for wasting revolution time watching a debauched game show.

By Texas Pinko
09/23/04 - 10:15 am

Viva la Revolution! Viva CBS! Viva Dan Rather! Viva Senor Kerry!

By Comrade Otis
09/23/04 - 10:54 am

Greetings Comrades,

I am Comrade Otis, Marshal of the Soviet Socialist Marching Harmonica Army.
You will be pleased to know that the new CBS fall line up features many hours of victorious, revolutionary Soviet Socialist Marching Harmonica Army music every single day. Tune in and March to Victory, Comrades! Now.

By Dansk Rathersky
09/23/04 - 11:43 am

I want to thank my wonderfully, gloriuously, and brave comrades for saving me in my darkest hour.

With out the help of Communist for Kerry I would have no help at all from no one except Maryesk Mapesovitch and I have to keep bringing her in from the ledge. It's okay as she is now hand cuffed under desk for good keeping.

Brave soldiers of Communist for Kerry, keep the good fight up and make sure the barbarians stay behind the gates!

By I changed my mind
09/23/04 - 11:56 am

I won the Virginia lottery last night and will NOT be a commie anymore. If you see a Red Porsche with a Bush/Cheney sticker on it, it was me.

By Scoop
09/23/04 - 2:09 pm

Scoop ***must credit CFK*** New CBS fall lineup changes:

MONDAY
10:00-11:00PM

CSI: CUBA


Jimmy Carter and his crackpot team of investigators relocate to Cuba to expose the flagrant human rights violations occurring near the village of Guantanamo Bay.

THURSDAY
8:00-9:00 PM

SURVIVOR: UKRAINE


Fourteen kulaks are relocated to a collective in the Ukraine where they compete for food, water, and a Siberian vacation. At the end of each show, "Uncle Joe" tallies the votes and delivers his signature line: "The people who cast the votes decide nothing, the people
who count the votes decide everything"; whereupon one contestant is eliminated with his vintage 7.62mm and airbrushed out of the introductory scenes.

DAILY


The Price is (no Longer) Right


Contestants wait in line to receive ration cards from the glorious state.

DAILY


The Bold and the Beautiful (Proletariats)


Beautiful peasant folk dispel Stalin's belief that "You can't make a revolution with silk gloves", by

actually

starting a revolution wearing silk gloves - and looking glamorous the whole time.

By Komrade Kyle
09/23/04 - 3:34 pm

*excellent*

By Comrade Bluerose
09/23/04 - 3:43 pm

Where can I get one of those terribly KEWLLL brimless french revolution barets, the black ones with the red or white insignia thingy in the middle? My wages are low from this capitalist dog system, so a donation of a good baret would be best.

Viva la Revolution!

By Terry McAulliffe
09/23/04 - 5:52 pm

Great job on destroying the imperialist dogs, guys! Just wanna warn you to cool down a bit. The American pigs may begin to actually understand that we democrats are communists and they may not vote for us. Ya know. What with the 180 million corpses our revolutionary ancestors piled up'n all.

Other than that, keep revolting!

By Protect the UN
09/23/04 - 5:57 pm

My revolutionary brothers, we are truly in the vanguard of the proletariat! We must bind with our comrades at the UN. THe yankee swine are starting to understand that the Marxist-Moslem alliance, so well protected and nurtured by the UN, is not in their interes! The UN building must be assured of liberation!

Koffee Annan must be secured. We communist revolutionaries have no better friend than Komrade Kerry here in the decadent west, but it is only Komrade Koffee who can take the revolution around the world and all the way to Mars!

By Laika the Space Dog
09/23/04 - 6:10 pm

Komrads! Help!

All my circuts are jammed. I can't get through to Smersh. I must try a new frequency.....damn that didn't work. I'll try another frequency, damn......it must be those evil Bushskis. Damn Reagan and SDI.

Wait! I got an idea!

Call Komrad Dan @ CBS........he will know the FREQUENCY!

If Komrad Dan is unavailable, find Komrad Kenneth!

We must find the FREQUENCY!!!!

Laika

By Dan Rather
09/23/04 - 8:38 pm

Without the support of Captain Smersh and Finn our broadcasts would not be able to continue. The pressure from the protest groups and ted koppel this past week has been hotter than a billfold in Sumner Redstone's back pocket.

- Dan

By Son of Feliks
09/23/04 - 8:58 pm

My cadres are now in place. Any slight abnormalities in broadcasts will be met immediately with the gravest of consequences.

We are showing the special training video, you know, the one with the agent gone bad, being lowered down the crematorium chimney, feet first, to all network personnel.

Live long and fight for the revolution!

By Direcktor -Programmink
09/23/04 - 9:26 pm

Ve haf announced new changes to fall lineup:

60 MINUTES vill now be 60 YEARS HARD LABOR IN SIBERIA.

Ve shall conduct in depth analysis of liberal bourgois and reactionary elements who have dared to criticize Commissar Kerry and put zem on train pointed vest. Train pulls out of station with stopvatch clicking to zed - very nice.

By Soviet Scientist
09/23/04 - 11:15 pm

Dear Commrades!,
This glorious establishment of a new freedom zone needs to be extended! We must lay siege to the capitalist propaganda department know as the Fox News network. The "no spin zone" is garbage! We must send the glorious Red Army, the people's army to remove the enemies of the state like the capitalist pit bulls known as Bill OReily and Sean Hannity! This will deal a sever blow to the Bush propaganda war against our glorious revolution

By Commrade General of TN
09/23/04 - 11:19 pm

The People's Army of Tennessee is at your disposal! We have conscripted, I mean recruited for this glorious revolution! If you need help defending the CBS building from the American Army we will move at once!

P.S. Can you spare some weapons, we have one assult rifle for every five men.

Page 1 of 3 Goto page 1, 2, 3 Next