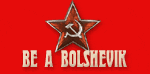 Donate - help our new project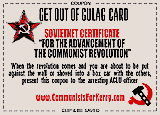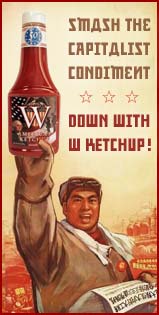 Winner of the competition of "Prettier Motherland Pages, for a Prettier Sovietnet!"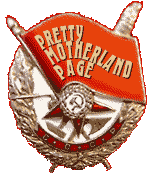 The Politburo "Award for Excellence in Socialist Webdesign in the Youth Collective" is a worldwide recognized symbol of quality for extremely advanced and progressive websites in the Sovietnet of the brother countries of the Comecon (Communist Economies)
No discussions!
Disrespectful messages shall be deleted.
The only permissible attitude on these pages is love. Love of the Party.

12/21/05 - 10:14 pm
A message from Red Eye:
This one came in the email today and it's too good not to show it to everybody here. Unlike stupid Americans who "can't think for themselves," this one is a real commie genius - he actually thought that being a Communist For Kerry somehow advanced the revolution.

----------------
FROM: Familia Garía García <aags@montevideo.com.uy>

TOTALLY AGREE WITH YOU! Really, I didn't think Americans could think by themselves, but you proved they do. Capitalsim is the worst thing that could ever happen to a country, and socialism and communism should rule worldwide. Im a Marxist-Leninist from uruguay, and I wanted the victory of Kerry over Bush, but the bad guys always escape unharmed, you know, we communists are doomed to critiscism, insults and that kind of stuff, but we're right and we'll prove it. Its just a matter of time. People will soon realize that capitalism ensures hunger, poverty and unfair stuff, while we guarantee peace and good values.
Well thats it, im glad to communicate with normal people who can think by their own, and remember, we've got the pravda!
Hammer & Sickle forever

* * *

08/16/05 - 4:09 pm
MESSAGE FROM RED EYE:

before you read this post you must realize that it is an attempt at reverse psychology humor by a European comrade whose IP is port30.ds1-oebr.adsl.cybercity.dk (Denmark). Otherwise we would've deleted it as dumb and offensive. But for a European socialist it's pretty good: 90% of the words are spelled correctly and the expletives are down to only 25% of the text.
--------------------

YOU FUCKING COCKSNIFFER COMMUNIST ASSWIPES!

BETTER SUPPORT BUSH YOU FUCKING TRAITOR NON-AMERICAN COMMUNIST SCUMBAGS. I ALWAYS VOTE BUSH f*** YOU ASSWIPES NO OTHER CAN CREATE ECONOMICAL GROWTH AND HELP DEMOCRACY IN IRAQ WE ARE VERY SUCCESSFUL AND WILL BEAT THE HELL OUT OF THE IRAQIES YOU FUCKING ASSWIPE COMMUNIST COCKSNIFFERS! f*** YOU

VOTE BUSH

f*** YOU KERRY COCKSNIFFERS

* * *

08/15/05 - 4:05 pm
Anonymous wrote
Sowjet is absolutely right. He's the only one of all you motherf***ing fake-communists who got it. what do y'all want? go home with your "ideas". Sowjet is right, there will never be communists in the USA! it's nothing else but capitalism.
The Commies and Socialists posting on this forum offer proof positive that "liberalism is a mental disorder".

* * *

08/11/05 - 10:26 am
communistsforkerry.com endorses Hillary Clinton for President



Hillary Clinton has reached out to us and we are happy to announce that we have the same values, we share the same vision and Hillary Clinton will help us to grow in America. We have signed an agrement which allows the DNC to use our database and resources. Together we have made a plan which is able to compete in this challenging times against the republican agenda. Hillary Clinton is the greatest politican we have ever seen and many people, especially the staff of this website are proud to work together with Hillary Clinton and the DNC to create a better America.

Look at http://www.hillaryclinton.com/

This message came from IP 84.146.218.178 located in Germany. How wonderful that Germans are concerned about the well-being of America to an extent that they wish to spend their time posting Hillary ads on American sites pretending they are Americans too. A little lying can never hurt - the end justifies the means. That's what internationalism is all about, comrades!

- Red Eye

* * *

08/09/05 - 8:04 pm
Dear Godless,
20-year old idiot? I'm a sixteen year old female and I live in Australia (the SLIGHTLY less oppressing country). Believe it or not, I actually give a damn about the state of the world right now. And I don't think that your proposition is going to do any good. I'm also a socialist, so really, we are supposed to understand each other... seems I'm the only one who understands here.
And sorry about being aware of America's lack of gun control. I thought it was good that people knew about such things. And I've never watched CNN in my life.
Honestly, if you are actually a lawyer, why don't you see these things for yourself? Try and do something useful to clean this fucked up world from its sin. Wipe some blood off your hands or something. But putting up a site like this, especially now when there is really no hope for Kerry anymore (who I actually would have liked to see win the election), is redundant. Put simply: THIS SITE SERVES NO PURPOSE ANYMORE.
So instead of setting up an internet webpage (a tedious task, I'm sure), why don't you try taking a few people to court for war crimes? Start a protest rally to get those war-mongers out of the White House. Just be AWARE!
Cheers

Dear 16-year-old idiot:
Firstly, let me thank you for your compliment, and let me compliment you in turn for your keen sense of observation (if not for spelling): a Goddess IS who I am.
Secondly, let me thank you for your time and effort with respect to our useless website. It is the likes of you that keep the Revolution alive.
Lastly, once and for all, stop begging for us to relieve your sexual tensions , it is unbecoming. and absolutely useless. Although we know you Aussies have a everything backwards winter/summer, right/left, your female cock has not tempted any of us.

Good Luck to you, and G-d be with you.

STINGING ROSA

* * *

08/08/05 - 5:33 pm
http://defendthewhitehouse.org/

The past four years since 9-11 has seen several important and contentious elections. In the West, where the peaceful transfer of power can often be taken for granted, voters returned to power statesmen like Bush, Blair and Howard, who's War Against Terror is being waged also in support of global political liberty. Elsewhere, entire nations selected their own leaders for the first time. In Iraq, where political liberty remains under threat, many died exercising their right to vote while eight million succeeded in spite of the danger posed by terrorists and the disapproval of Western elites.

But in the United States, the Social Justice movement has shown a dismaying lack of faith in Democracy. Because the antiwar proposition lost the election, a mob intends to surround the White House this September 24th to demand President Bush's removal.

This demonstration, like other large anti-war and anti-Bush demonstrations, is being organized nationally by the usual professional activists from the extremes of the Left. It deserves a national response, both from supporters of President Bush and from people who simply oppose the destructive trend of filibusters, judicial activism, reflexively contested elections and elections disregarded altogether.

We must raise our voices and speak at this crucial time to demonstrate to the nation and the world that we are still a Republic in which the political process is respected and a plurality of views can coexist without hatred.

* * *

08/03/05 - 2:38 am
Ho comrades...I am true russian comuinst...i am very happy, because i found some comuinists in the USA rof mother russia and father USSR

* * *

07/27/05 - 10:17 pm
hahahahahaha, communists are dumb. is this site for real? give up now. do something positive. go help a starving child. quit blaming America for your problems. No one fucked it up but you. Only a communist could blame everyone but themselves. Keep it up you self loathing Americans.

* * *

07/24/05 - 3:27 am
f*** you all and especially KommieKiller. You're so dawn dumb just as I thought. You really believe I live in America?Are you kidding me? If I would live in there I just would be so fucking stupid, would swap my friends for money, and would be so fat that I must sweat when I sh*t, just like an American.
So you dawn suckers, answer if you wanna talk to a real sowjet.

AKKP AKKP AKKP AKKP AKKP AKKP AKKP AKKP AKKP AKKP AKKP AKKP AKKP

"!!!IN STALIN WE TRUST!!!"

It is true what they say, RUSSIA, is cold and lonely....?
even in July, very cold, impotently angry and sad, sad and lonely

(Yeah-yeah, I know, Rod Stewart..but this was all mine)

STINGING ROSA

* * *

07/23/05 - 10:50 pm
Comrades! I have started the war out here in the great socialist-to-be state of California! Keep the great work! As a proud Soviet Born Hardcore Stalinist I shall devout my entire devotion to your site, and take down the burgeoise, for they have forced my family to WORK! When we demanded reperations for causing our great Union to collapse, the scoffed at us!

* * *

07/20/05 - 8:02 am
What I meant to say was this is possibly the stupidest website in existence. Possibly worse than www.myspace.com. This site single handedly vomits on eveything communism means. The soiled remains are then set on fire. This page alone proves this site is anything BUT communist:
* No discussions!
* Disrespectful messages shall be deleted.
* The only permissible attitude on these pages is love. Love of the Party.

What the f***?. Disrespectful messages will be deleted? f***. f***. Pants. I'm not even going to get into the whole "choose the right communist religion" debacle. There's no point. My advice: a) Lay off the crack
b) If you are infact serious *shudder*, death will come swiftly. A thousand halberds to your head, asswipe.

* * *

07/20/05 - 7:48 am
I'm wearing pants. They're quite great.

* * *

07/19/05 - 11:35 pm
I find your site absolutely ridiculous. Is this the kind of totalitarian regime that we would WANT to see erupt in a modern America? f*** no. Just reading the "sixteen steps" made me cringe with the blatant irony. Communism is NOT SUPPOSED to believe in religion of any kind. If you are such an avid supporter of Lenin, then you above anyone would know that he called religion "the opiate of the masses." How do you explain then, that you still insist there is a PROPER religion? I'm not religious in any way. I gave that up a long time ago. I'm also not an American citizen and hope to >insert "proper" religion here< that I never will be. But I think America is completely screwed over as it is, and this sort of regime can only make it worse. I don't know if you've realised or not (obviously not), but by telling people to wear the same clothes, act the same way, give all they own to the government... doesn't this sound slightly fascist to you? Just a little? BY FORCING EVERYBODY TO BE EXACTLY THE SAME YOU ARE TAKING AWAY THEIR PERSONAL LIBERTIES!! Human rights are probably the most important rights that we have, so stop exploiting that. People have a right to dress how they want. They have a right to work and earn money, and also to enjoy it. Surely, as America is the superpower that it is today, it could only get better and more powerful, right? Then the economy's fine, correct? Do you really NEED all that money from the working class? Because what are you going to do if one of your hard workers comes into the (now publicly opened) White House and sees all of you "communist" leaders drinking champagne and wearing suits? My guess is that you would either have to buy every single person in America a suit, have that person killed (a noble endeavour, I'm sure), or hold a gun to their head and make them swear to never tell anyone what they saw. Also:
Does a new era of communism mean that America could actually PASS a law on gun control? Perhaps we can REDUCE the number of people being killed in their own homes by children and adults alike. Apart from assimilating millions of people into mindless drones, what would this government do about the vast sea of problems in which America is currently adrift?
My advice to you is to seriously rethink your strategies. This site is pathetic and oozes of contradictions. If you want to be taken seriously, think of a plan that would actually work. If you're a lawyer, then you should be intelligent enough to realise that this is one of the stupidest regimes ever plotted - right up there with fascism. The resemblance is uncanny.
Until next time, read a book, learn a few things. Oh, and go back to law school.

Dear Suck:
Let me assure the reason that I am giving your post my time to respond, is not due to the call to arms, as the only female in the Politburo.
It is b/c today, I have time to give.

The longer this site is interactive, long after its purpose, the scarier it becomes. I have not visited in a few months, and although I have seen the likes of you before, I will tell you, you have moved me to tears. Real ones.
You are not in your teens, and cannot be possibly be overwhelmed by emotion of the election, where I by definition, accept, that the weaker, affected minds.
You wrote this in July. You took your time. You wrote your best…
there no words to describe you...abomination, says nothing!
I don't want to know that you exist. And here you are.

On the other note...Badabim-Badaboom:
someone who has this much time, has to be an self important-ivory-castle dweller( 20-21),

Let's see, if we can support ,this, much more palatable, explanation for your presence on our website:
* misspelled, misused words
* Human liberties" as opposed to, let's see, INSECT ones??
* many CNN/NYT labels : "

actually PASS a law on gun control? Perhaps we can REDUCE the number of people being killed in their own homes by children and adults alike.

" OR:"

the vast sea of problems in which America is currently adrift

?" these have to be lifted, directly/plagiarized, from the lemming press
*giving advice to people you don't know

OK, enough!, there are many reasons, that based on your typing ,one could sustain an argument that you are just a 20 year old idiot. I WANT WILL BELIEVE THAT.
And if you are not………If you passed that stage……………
G-D, HELP US ALL.

STINGING ROSA

* * *

07/19/05 - 6:30 pm
Why the hell does this site still exist?
The election is over. Grow up.

* * *

07/12/05 - 1:29 pm
Though I realize that this may never make it to the sight, I would never-the-less write it with the knowledge that at least someone will see it. I, as an actual Libertarian Communist, am appauled on most levels by your sight. Ignoring your complete misrepresentation of Communism, which can be accepted due to your own far-right political beliefs and the debauchery of the USSR, it is rediculous for you to label Kerry as a Socialist/Communist. To us true poponents of the working class, Kerry, and the entire Democratic Party, are nearly as vile as the Republicans and Bush seem. Though I must personaly admit that I feel more hate for Bush, when the revolution does come would just as soon target Kerry as Bush. The truth is, on the entire scale of politics, Kerry is Centre-Right. To label him as a leftist, and for that matter a Socialist! It does nothing to the educated mind, regardless of political beleif, but demonstrate your real lack of political knowledge and your narrow world view.

Dear

Appauling

(sic.):

Our site is fine, really, honest. Trust me, I am a lawyer.
However, for someone opining on calculating measurements of "world view",
you'd be best served if you checked your "

sight

" sic. first.
Once you come out of darkness, you might even become APPALLED, but what you see
Really, honest, well, the rest you know.....




STINGING ROSA



* * *

07/11/05 - 8:12 am
this web site is packed full of irony. for the sake of the argument marxism is not red and russian. its a philosophy not a culture.......

freedom isn't free it costs a buck o five.....

* * *

07/10/05 - 11:38 pm
Burn the Bush's family!!!!
Destroy Capitalism!!!!
And let's fulfill Lenin's Dream

* * *

07/06/05 - 1:47 pm
Get Involved



In a democracy, there are many ways to make a difference. First and foremost, you can vote. You can also contribute to your favorite party or candidate. And you can be an informed citizen, reading and watching the news to hear what people who seek public office are saying about the issues that affect your life.

But one of the most exciting and satisfying ways to make a difference in our democracy is to get involved. Volunteer at headquarters. Write letters to the editor. Call a radio talk show. Staff a phone bank. Go door to door. It's a great way to meet people who share your passion for politics and policy, and there's no way I can succeed without you!

Won't you consider helping out in your community and on our team?

Please take a moment to fill out this form, let us know how you'd like to get involved, which issues interest you the most, and we'll be in touch to keep you posted on how the campaign is going, and how you can help.

Look at http://www:

CENOSORED



AND SO, IT SHALL CONTINUE



STINGING ROSA



* * *

07/06/05 - 7:29 am
Join YvHRC Today!



Look at http://www:

censored


Who We Are
Senator Clinton and Friends of Hillary are embarking on the exciting task of organizing a young voters group called YvHRC (Young Voters for Hillary Rodham Clinton). Our mission is to engage the young professional community in the political process — thus fostering a sense of efficacy among young people and ensuring a long future of their political participation.

AND SO, IT HAS BEGAN....



STINGING ROSA



* * *

07/05/05 - 8:00 pm
I GET IT!! WHAT A HOWL!! LAFFED SO HARD I ALMOST FELL OFF MY CHAIR!!
A Hundred Years of Failure Proves Nothing! World's Greatest T-Shirt Salesman!
Well Done! Skewer the Commie trash from within with their own lies!
Absolutely Brilliant!

* * *
Powered by

We've run into expenses building this site and spreading havoc on Union Square and beyond. If you like what you see, click below and donate a buck or two for the revolution!

---
Komrads who have paid for @CommunistsForKerry.com
email address can sign in here:



Komrads who want to obtain @CommunistsForKerry.com address click here



---

---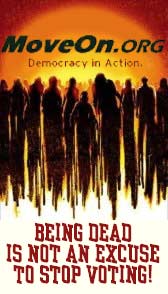 ---
Awards and medals
earned by our youth collective for this website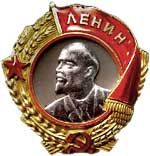 Recipients of
Order of Lenin
for heroic service to the Revolution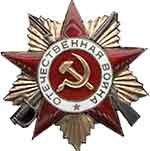 Recipients of
Order of the Great Patriotic War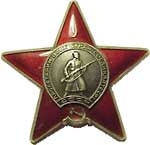 Recipients of
Order of the Red Star