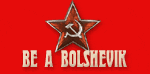 Donate - help our new project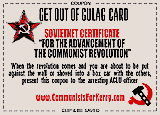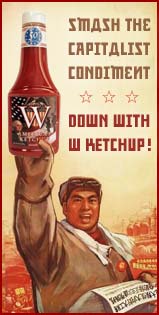 Winner of the competition of "Prettier Motherland Pages, for a Prettier Sovietnet!"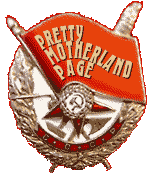 The Politburo "Award for Excellence in Socialist Webdesign in the Youth Collective" is a worldwide recognized symbol of quality for extremely advanced and progressive websites in the Sovietnet of the brother countries of the Comecon (Communist Economies)

Bloggers Expose CommunistsForKerryGate
By The Politbureau
10/06/04 - 9:01 pm
The outrage around Fox News report about Communists For Kerry is focused around two points:
The Fox News reporter was biased, otherwise she would've never fallen for Rob's words.
Real communists don't support Kerry. To say otherwise is slander and red-bating. If such support existed, Kerry voting base would eschew it.
As usual, we easily beat them with the proven dialectical method: we counter weak liberalism with strong communism!

~

(8/30/04) An organ of the Democratic Party (Washington Pravda Post) displays bias (preconceived notion) by failing to see parody in Communists For Kerry during the RNC protest in New York.

"And Kerry might prefer to eschew the four-member "Communists for Kerry" contingent, whose placards advocated a "France First!" foreign policy."

This Washington Post report mentions Communists For Kerry in exactly the same key as the Fox News story. The national paper's staff writers affectionately described the anti-Bush rally in New York on August 29, knowing well that it had been organized by communist front groups. In their minds, the idea of communists supporting Kerry didn't go against grain at all, that's why they failed to see parody in our posters, costumes, slogans, and the antique Soviet banner. It was the result of the Washington Post journalists' preconceived notion (bias) about the protest.

In contrast, the Fox News reporter didn't see any posters, costumes, and fake beards - only Komsomolets Rob handing out propaganda outside a bar in East Village filled with agitated Kerry supporters.

Number of blog discussion over the Washington Post report: ZERO. Number of media articles denouncing bias of the Washington Post staff writers: ZERO.

(8/28/04)
| | |
| --- | --- |
| Two DNC workers lured by our glowing red communist propaganda on Soviet Union Square (8/28/04). | These two DNC workers willingly approached us to thank us for our support of John Kerry. They thought we were totally cool with our costumes, the vintage red banner, Castro's fake beard, and The Red Deal posters. They gladly posed for the picture and left with the conviction that both Communism and Kerry were good for the People. |
Testimony by Che:

Two DNC red warriors joined us in Union Square to help us register voters. They were quite happy to see us. When the young warrior asked me why we were there in such force, I told them we wanted to show solidarity on the left. We need to make sure that all people stand together to defeat the imperialist Bush regime. The young lady said to me, That's so great, it's nice to see so many diverse groups out here today supporting our candidate. I then asked them if we could take a picture for our scrap book and they gladly participated.


Two DNC workers embracing Great Leader Che. The title of the book says "BEAT BUSH."
The official Communist Party of America, CPUSA, voted for Kerry before they voted against him. They endorsed him when Kerry was courting the radical left voters, and have recently (8/25/04) posted a denial of their endorsement so that comrade Kerry could collect votes of the moderates.
---
1. All sides of the political spectrum easily accept the idea of communists supporting Kerry. It is an established preconceived notion (bias).

2. Only such acceptance by one side causes outrage and accusations of bias, but on the other side it provokes a warm feeling of comradeship and inclusiveness. This is obvious hypocrisy.

3. A statement to the effect that communists support Kerry does not constitute slander because it is a well-known fact. We couldn't have had a better comrade in our effort to speed up the downfall of world capitalism! Kery is known to be liked by both domestic and international communists. The CPUSA saying they did not endorse Kerry is like Clinton saying he did not inhale.

4. Kerry supporters do not eschew communists backing Kerry. On the contrary, most of them are heartened by such support and cheer our appearance at leftist events in New York - at least until they get the true meaning of our slogans. Interestingly, some of them never even get it and so they remain happy throughout the course of our encounter.

* * *

What do we communists say about hypocrisy? We better shut up. People who live in glass houses shouldn't walk around naked, da?

One People, One Party, One Truth!



---

This was emailed to us Thursday:



By Al Sharpton
10/07/04 - 9:19 am

The Black Coalition of Communists for Kerry is at your disposal.

By at2258
10/07/04 - 10:42 am

Yesterday the Oprah show was about, "30 year old woman and their lives around the world." Lisa Ling, actress, National Georgraphics correspondent and all around has been hack, went to Cuba. There she spoke to a night club dancer who earns the same as a doctor. Yes, the dancer a high school drop out, makes the same as someone who has spent the last Ling went on about the free health care. The government has even provided her with 3 abortions. What a wonderful place to work and live. I just wanted to leave my suburban life in New Jersey and go live in Cuba pronto!!!

By Lunatic Fringe Mayor
10/07/04 - 10:00 pm

Is this Enos guy still around? Was he not dispatched to points northward to count trees?

By Barbra Streisand
10/07/04 - 10:30 pm

When I think of truly awe-inspiring self-aggrandizement, I think of myself in Funny Girl back in 1968, but then again, I consider that just a stepping-stone to the really colossal self-aggrandizement that it took for me to file a lawsuit demanding that nobody take aerial pictures of my mansion. But relatively speaking, that's nothing like the self-aggrandizement I accomplished when I misquoted Shakespeare at a DNC fundraiser - with Tom Daschle right up in the front, hanging on my every word - I mean, sure, it was made up but it sounded authentic, and that's all that really matters. Whoever wrote that should be a playwright or a writer or a producer of something or other.

Remember, it's people who need people, and it's so poisonous that your venom toward these sweet Communist for Kerry kids has become yet another sadly misguided example of the moral callousness of our time. Some would say (although not me, because I usually have other people write what I say in order to avoid looking like I did when I spoke at Harvard about the Economy - that was the LAST time I'll ever do that kind of theater) that some of it can be traced back to the Manichean undercurrents pulsing through the veins of our youngest, hippest writers in Hollywood, and you should be ashamed of yourself for coming down so hard on these good boys and girls. Obviously, your heart is closed. And clearly, you're the one who is hung up over the ethnicities of these two loyal and sincere DNC activists: Comrade Che has embraced them in this warm and memorable photograph, carrying a message we all hope will become reality in the very near future, and in so doing he has immortalized their biracial harmony and shared purpose. Shame on you for trying to jam another divisive wedge between them. Shame! On! You!

As the doyenne of the Democratic Party, I fully support Communists for Kerry, and I can only hope that they get picked up by major mainstream news organizations like Common Dreams and featured even more prominently in their ongoing discourse. We have a saying here in Hollywood, that kindness always leads to kindness, and self-esteem is the most important and wonderful gift one person can give to another, because People Need People. So you're just being a meanie. Remember, just like the DNC activists in these photographs said, we should be glad to have all of the diverse groups making their statements and speaking out for real freedom and generosity of spirit.

Happiness With You


By Destruction Awaits
10/07/04 - 10:59 pm

"CPUSA doesnt like Bush very much"? Thanks for the update, Captain Obvious!
And next time, please provide a link to where the KKK "outspokenly supported Bush in the past". I'll bet dollars to donuts that the only place where the KKK "outspokenly supported Bush in the past" was in your head after the people in the white coats with the sleeves that fasten around back took you away for a weekend.

One more interesting point. The KKK was formed by southern democrats that did not exactyly agree with the Republican President's Emancipation Proclamation. That's right kids, good ole Honest Abe Lincoln was a Republican and freed the slaves. Hmmm, how about that for a history lesson on how Republicans are so racist. Do a little research on Nathan Bedford Forest for a nice little lesson on the origins of the Klan.

Che

By Huge Anus
10/08/04 - 3:12 pm

Yeah, Lincoln was a Republican and the KKK was started by democrats. Of course this is before the civil rights movement, back when republicans were LIBERAL and democrats were CONSERVATIVE. These democrats were called Dixie-crats. You'll recall that Strom Thurmond ran for president as a Dixie-crat on the pro-segregation/anti-misegenation/pro-polltax platform. Then the civil rights movement hit and Strom thurmond, whom I hardly need prove was a racist, shifted to the republican party. So there.

Second, there's no offical press release saying that the KKK wholeheartedly supports Bush, but there really wouldnt be would there. I know that they held a pro-bush rally in september but I'm not sure where, but again yeah, fine, you win, I cannot unequivocally prove that the KKK supports President, in much the same way you cannot conclusively prove that the communist party actually supports Kerry. They're opposed to Bush, sure, 'bout half the country is, and I guess in a two party race that makes them pro-Kerry by default. In the same way the KKK is opposed to Affirmative Action, which Kerry supports, so that makes them pro-Bush.

Also where did my first post here go? Was it deleted? Was it the same guy who changed my name to Huge Anus that one time? Cause that was really cool. I wanna learn how to do that so I can change everyone's name to "Stupid Doody Dum Dum Head" because I too am very cool... but seriously, deleting my origional post kills the context for the truly hilarious Streisand posting and the others, so dont be a child.

Thank you once again Mr. Anus for your in depth commentary. Just a few more interesting facts and then i am done with you. One more peep and it's off to the gulag.

Civil Rights Act - Passed in the house with a 94% R vote and a 64% D vote

MLK Jr. Day - Ronald Reagan made it happen

Affirmative Action - Useless and just holds people down

George W. Bush - More African American and Latino members on staff than any president throughout history

John Francois Kerry - Zero minorities on any of his advisory teams or staff

Wow, you're right. Republicans are some racist mo fos.

Che

By International A.N.S.W.E.R
10/08/04 - 4:11 pm

You go, Hugh! It's totally impossible to prove that the Worker's World Party, or the CPUSA, or anyone at United for Peace and Justice is working "To Oppose the Bush Agenda" and thereby support Kerry. It's just IMPOSSIBLE, especially when they make it even tougher by displaying the list of all their member groups on a webpage like this one:

Democracy NOW!

You'll notice that:

Communist Party - Maryland
Communist Party - New York
Communist Party- Central Indiana
Communist Party USA


are on the list, as are:

Democratic Socialists of America
Democratic Socialists of America, Chicago chapt

as are:

National Lawyers Guild
National Lawyers Guild - Milw. Chapter
National Lawyers Guild, NYC Chapter

as are:

Not In My Name
Not In MY NYC
Not In Our Name
Not In Our Name (NION) - Chicago Chapter
Not In Our Name (NION) - Houston
Not In Our Name (NION) - Santa Barbara
Not In Our Name (NION)- NYC
Not In Our Name Youth and Student Network

as are:

Socialist Action
Socialist Alternative
Socialist Organization for Relief, Tradition, and Opposing Fascism
Socialist Party USA
Socialist Party, Ohio chapter

as are:

Young Communist League, USA
Young Democratic Socialists
Young Koreans United of Chicago
Young Koreans United of USA
Young Peoples Socialist League
Youth Crime Watch of the Gambia
Youth for Peace in Wisconsin
Youth for Peace in Wisconsin
Youth for Peace, Wisconsin
Youth for Socialist Action
Z Magazine and ZNET

It's getting more impossible by the minute!

By International A.N.S.W.E.R
10/08/04 - 5:15 pm

But I can help you and UPJ out in disproving this claim that Communists are supporting Kerry. I think this will help: it is a partial list of links to the organizations on the UPJ page, so that I can help you

prove

that the Communist Party doesn't support Kerry in any way at all. I can do that conclusively! Consider it unproven!

The Stronger The Bias, The Stronger The Truth



Communists For Kerry



By Huge Anus
10/08/04 - 10:51 pm

(Thought I'd just save you the trouble of making the obvious joke, oh masters of wit and witicism that you are)

Che, is it? I think you missed my point. I'm not saying republicans are racist. I'd ask you to quote me where I said that, except you can't and I dont want you to waste your time. And ANSWER, you didnt do any better, effectively proving the point I was making. That list of the United For Peace affiliate organizations? UfP opposes Bush, no question, but on that site it does not say that they support Kerry, ,except that he is the likely means to Bush's defeat in the forthcoming election. I SAID that the CPUSA, and agree to the likelyhood of all the other orgs you listed, support Kerry BY THE PROXY of their opposition to Bush. I hate to resort to childish insults, but are you legitimately retarded? Dyslexic? I can't think of any other explanation to how you'd try to argue that my point is wrong, and then go out of your way to prove me right.



What exactly was your point again? Please explain.



By Hugh
10/09/04 - 11:36 am

As far as racism, my point was that, though I'll concede that very few republicans are small-minded racists, most small-minded racists are republicans. Is it hard to see why? They oppose welfare, which predominantly benefits african americans, they oppose affirmative action, they support the drug war, which tends to target inner city black youths more than whites, and they support the forcible inclusion of religion into our public schools. As I say, this is not because republicans are blatantly racist (as far as I can tell) but now, since the civil rights movement caused this political shift, most racists are republicans. (I could go into greater detail on this, but wont here beecause this is somewhat incidental to the larger point I'm trying to make)

The point, which was in my mysteriously absent first post, was that your group is trying to draw a connection between Kerry and Communism where there really isn't very much of one. The first step to that end would be showing how Kerry's policies are extremely beneficial to the communist ideal, and you do not do this very simple thing. Take BillionairesForBush.com as an example, though clearly as much a joke as your organization, they take the time to explain how Bush's economic, domestic and foreign policies benefit them (the hypothetical billionaires) almost exclusively. Yes, theres some outright jokes and self-promotion, but there is at least that foundation of substance.

Your site, on the other hand, makes no policy connection. The platform buttons at the top of the page just link to more silly jokes, one with an all red rubik's cube (way to stay current, btw), one with another distortion of Kerry's "sensitive" war on terror quote, one with Janeane Garofalo and a tomato for some reason, and two coming soon areas where you suggest that Kerry is Pro-Abortion, (he has said that he is personally morally opposed to it, but believes that every woman has the right to make that unfortunate choice) and one where Kerry is pro-welfare-state and anti-job (he plans to create jobs by giving tax breaks to companies PROVIDED they create jobs in America, and supported Welfare-to-Work and other welfare reforms).

In the absence of actual policy convergence you have merely tried to insinuate yourself in DNC events occasionally. Which brings me back to the photos at the top. To prove that the DNC accepts the communist party you have two photos (one behind, one front) that show the same two people (a black guy and a white woman, so yeah they must be democrats, I'm so totally sold) wearing DNC Tshirts (cause you know those are severely hard to come by) at the massive RNC protest. Couple hundred thousand people there, and you've proven that maybe two of them could stand by you and smile for a second. Impressive.

I'm sorry, but if you want to go for relevant satire (and I'm doing you the favor of assuming you are) you're gonna have to do much better. All I see here is self-promotion, a few silly jokes, and links to other right-wing sites. You have a unique chance here what with the attention you've luckily recieved from the WaPo and FoxNews mentions, but you're wasting it by just farting around like this.

By John Gotti
10/09/04 - 11:54 am

Hugh has a good point, and I hope all my mafia brothers are listening in here: when I was in charge of my family, it was impossible to say I did or didn't support rubbing this or that guy out, or tying one to the bumper of a car and dragging him a couple of blocks, or whacking him with a bat or something. I never did any of those things myself - I made sure to go through what Hugh calls "a proxy", or, eh, you know, an "umbrella group."

But you know, Hugh, you've gotta lighten up. This is a humor site, and even though I coulda had a lot of comdeians I didn't like rubbed out after they made jokes about me, I didn't because even I knew that some people like certain comedians more than others. Some liked Lenny Bruce more than Bill Cosby, some like Chris Rock more than Dave Chappelle, you get the idea. You have a lot of good ideas, and there's nothing stopping you from setting up your own site, like CommunistsForKerryByProxy or AntiCommunistsforkerryforkerry, and do a better job yourself. Listing the Kerry talking points and positions here on Communistsforkerry is redundant; anyone can go on over to John Kerry's own website and read them. You sound like a kind of guy who doesn't laugh much, and no matter how tough life gets, you gotta remember to laugh.

By tum
10/09/04 - 4:27 pm

They oppose welfare, which predominantly benefits african americans, they oppose affirmative action, they support the drug war, which tends to target inner city black youths more than whites



They oppose welfare which makes african families dependent on the government rather than independent.

They support the drug war to help inner city black youths put control back into their own lives.

By You-know-Hugh
10/09/04 - 7:44 pm
tum wrote
They support the drug war to help inner city black youths put control back into their own lives.


Yeah, do me a favor and ask all the guys in jail for fifteen years on posession of a joint how "in control" of their lives they feel for me, wouldja?

And of course I like to laugh. It's pretty much why I came here in the first place. I was looking for satire that associated Kerry's positions with Communism (not that I inherently believe this to be the case) and just found a bunch of silly assed jokes pretending to be high-minded satire. Your mother and I are both very disappointed in you...

By Comrade Trotsky
10/10/04 - 3:27 am

Comrades! Huge is beginning to tell us a story that deserves attention! Look at what has happened:

1) Communists For Kerry publishes unequivocal evidence that young DNC activists are idiots who will believe anything as long as it seems to support their cause.

2) Comrade Kerry, taking note of this, launches a nationwide advertising campaign to change his messages to the people once again in accordance with this principle.

3) Huge Anus, perhaps a little brigher than some, begins to ask questions, and seeks out Communists for Kerry in search of high-minded satire. Perhaps he thinks he needs a respite from reading DNC position papers, perhaps he has grown weary of toiling under a naked lightbulb in the basement of Party headquarters. Regardless! he is grimly disappointed that the People's Satire doesn't meet his high standards, and instead of using the Contact button on the home page, he becomes pissy and scolds everyone.

Comrades! Listen to me! If things keep up this way, the rest of the DNC hordes will also begin to migrate here, demanding respect! Our revolution will be confronted with chaos and dissent, and in order to consolidate our power we will be forced to massacre a few hundred thousand Kulaks, and then have Comrade Gore speak again, to realign the base and get the revolution grinding back on its track! Be prepared for this outcome, for as we march along the path to cure weak liberalism with strong Communism, it is unfortunate that we will have to trample many of our fellow-travelers underfoot! I hope that Comrade Smersh is ready!


By CommunistsforPutin.com
10/10/04 - 5:02 pm

Following lead by Comrade Rather and CBS in character assassination of leading Presidential Candidate, ve in former USSR make similar attempt to assure Power to the Proper People in former southern colony of Ukraine.


Except ve take "character" out of "character assassination" and , how you say,go for whole "vereniky" - I mean "enchilada".

Zis Yuschenko guy very popular like American Bush ! He lead in polls with only few veeks to go. So ve invite him for nice dinner, sprinkle his zakuska vith some WMD just imported from Persia, and befor you know it, he more bloated than starvink kulak.


As you can see, ve still need some help on fakink memos!

____________________

"Rudolfinerhaus" doctors suspect using a biological weapon against Yushchenko

Today the chief of Victor Yushchenko's election campaign Oleksandr Zinchenko has made public the Rudolfinerhaus doctors' appeal to allow them verifying the fact of using a biological weapon against Victor Yushchenko from the Verkhovna Rada's rostrum.

The complete text of the letter read out by Oleksandr Zinchenko:

"Dear Mr. Yushchenko!

We, the undersigned doctors, ask your permission to apply to certain international organizations for assistance, since we have come to a conclusion that clinical symptomatology and the course of a range of diseases does not correspond to the course of diseases known in civil medicine. We have arrived at a clear decision that Your illness is atypical, thus there are reasons to suspect using a biological weapon. Proceeding from the above-mentioned situation, we are in urgent need of chemical and biological warfare expert. Clinical course of disease is now giving grounds to suspect using specific substances that are usually found in biological weapon. We ask Your permission to get urgent assistance.

Univ. Prof. Dr. Zimpfer
anaesthetist and intensive medicine specialist
The Rudolfinerhaus clinic

President, general surgery specialist, Prof. Dr. Korpan.



Fake letter from Yushchenko's doctor questions poisoning claim

The Jamestown Foundation
Wednesday, October 6 -- Volume 1, Issue 100
EURASIA DAILY MONITOR
By Taras Kuzio

The attempted poisoning of opposition presidential candidate Viktor Yushchenko last month has taken a new turn that suggests a return to Soviet-era KGB methods. A fake letter from the Austrian clinic that treated Yushchenko was sent to Reuters news agency and then widely disseminated abroad and by pro-presidential media in Ukraine.

Yesterday [October 5], Reuters issued a statement that denied the authenticity of the information it had distributed on September 28, which had been based on the fake statement purportedly drawn up by the clinic. Also on October 5, pro-presidential parliamentary factions issued a joint statement that drew on the fake clinic statement and subsequent news reports to call upon Yushchenko to withdraw his candidacy because he had misled everybody about his poisoning. They also called for adjourning the parliamentary commission established to investigate the poisoning (Ukrayinska pravda, October 5).

Yushchenko became extremely ill on September 6, with symptoms that resembled acute food poisoning (see, EDM September 20). His symptoms grew so severe that Yushchenko traveled to a clinic in Vienna, which stated that the mortality risk, had he arrived at the clinic 24-72 hours later, would have been 80%. After he returned from Vienna, Yushchenko spoke to the Ukrainian parliament where he accused the "authorities" of organizing an attempt on his life.

The Ukrainian authorities launched a two-step plan to deal with the attention Yushchenko received after surviving the assassination attempt. First, the authorities organized a fake "assassination" attempt on their own candidate, Prime Minister Viktor Yanukovych. This attack was planned to occur during Yanukovych's September 24 visit to Ivano-Frankivsk, during which he wore a bulletproof jacket under his coat. But before a hard object could be thrown at him, a student hurled an egg at the Prime Minister. Thinking it was the planned projectile, Yanukovych collapsed on the ground. The resulting farce backfired on Yanukovych (see, EDM September 30).

Second, authorities tried to undermine Yushchenko's poisoning story by issuing a fake statement by the Vienna clinic. On September 18 Mikhail Pogrebynsky, political consultant to Yanukovych ally Viktor Medvedchuk, prepared the ground by stating that the whole incident "looked very much like a campaign trick" (Zerkalo nedeli, September 25-October 1).

The pro-presidential media began circulating stories alleging that Yushchenko had long been ill and was therefore physically unfit to be president. Medvedchuk's Inter television channel (October 1) claimed Yushchenko suffered from a complex of ailments that are "typical for many state servants because of their lifestyle." On October 3 ICTV, a channel controlled by oligarch Viktor Pinchuk, used its "Dokladno" analytical program to make public Yushchenko's medical records, which had been provided by the parliamentary committee investigating the poisoning. A September 29 temnyk (secret administration instruction sent to the media) advised media editors to describe the poisoning as "unsubstantiated" and to outline how Yushchenko had "misled the Ukrainian public" (Ukrayinska pravda, October 1).

The Rudolfinerhaus clinic in Vienna denied the authenticity of the fake statement on October 4. Dr. Michal Zimpfer said he had never seen, nor did he sign, the September 28 statement faxed to Reuters. The clinic's statement pointed out that doctors are still unable to determine whether Yushchenko had been poisoned or not. The clinic reiterated that Yushchenko's symptoms were not a product of food poisoning but from substances introduced artificially into his bloodstream. In contrast, the fake clinic statement had categorically stated, "The information disseminated about an alleged poisoning is absolutely unfounded in medical terms" (Reuters, September 2

. The public relations company Trimedia (trimedia.at) then admitted to having faxed the fake statement, which had originated in Germany. They claimed that the text had been prepared by the Kyiv-based PR firm EuroRSCG.

New information has suggested how the poisoning may have occurred. Apparently Yushchenko began to feel acutely ill several hours after having dinner with the chairman of the Ukrainian Security Service (SBU), Ihor Smeshko, and his deputy, Volodymyr Stasiuk. Yushchenko had called for a meeting with the two men to discuss the security services' involvement in the election campaign. The dinner took place at Stasiuk's home and was organized by two leading members of Yushchenko's team, Roman Besmertnyi and Davyd Zvannia. Stasiuk's involvement is significant, as he is seen as President Leonid Kuchma's man in the SBU (Zerkalo nedeli, October 2).

Yushchenko's election team has accused the SBU of being behind the fake letter faxed to Reuters. They must also remain suspicious that Yushchenko's acute illness began so soon after his dinner with two SBU chiefs. In late September Yushchenko's campaign headquarters publicly released information that the well-known organized crime figure Oleksandr Angert ("Angel") was in Kyiv on a mission to assassinate Yushchenko. Angert denied the accusation (Ukrayinska pravda, September 29). As the October 31 presidential election enters its final weeks, the degree of suspicion and distrust that exists among the opposition, public, and the authorities is now so high that such information is widely believed.

---------------------

Maybe Kerry should invite Bush for nice Dinner?

Joseph Stalin Jr

By ABC- Political Commisar
10/10/04 - 8:44 pm

With all due respects to the son of our leader of October Revolution, The Russians have F'ed things all up for World Wide Communism because they GOT CAUGHT!!

Now take American Brodacasting Communists - we make sure our writers are very discreet in controlling the minds of the masses WITHOUT GETTING CAUGHT!

We do not resort to hamhanded force or simple minded subterfu... What? Hold on a minute -


What did you say? The memo on bumping Kerry is on the net ? YOU MEAN THE ONE THAT I SIGNED ! WHO THE FU...WHAT- ITS ON
http://www.drudgereport.com/mh.htm

HOW THE !!??!?!?

As I was saying, we fully support our Rusian Brothers in Revolution and we urgntly request that they send two armored divisions to ABC Corporate Headquarters as we are anticipating a difficult week.

By Pinko Commie
02/27/05 - 7:18 am

I denounce this item!

What? That's what it says to do. :p

By fghfghfzxg
03/22/05 - 3:02 pm

what's up with that guy who is throwing up? f**king gross!

By Iron Felix
03/24/05 - 10:40 pm
fghfghfzxg wrote
what's up with that guy who is throwing up? f**king gross!


Komrade in picture is having reaction after been trated in Peoples Hospital#1516243. Again since drugs are freee for all we cant guarantee their expiration dates.
If you have further questions, please give your Name and adress and be ready to work in cooler climes.
Warm proletarian regards,
NKVD chairman .

Page 1 of 1
Powered by

We've run into expenses building this site and spreading havoc on Union Square and beyond. If you like what you see, click below and donate a buck or two for the revolution!

---
Komrads who have paid for @CommunistsForKerry.com
email address can sign in here:



Komrads who want to obtain @CommunistsForKerry.com address click here



---

---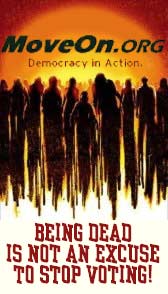 ---
Awards and medals
earned by our youth collective for this website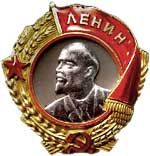 Recipients of
Order of Lenin
for heroic service to the Revolution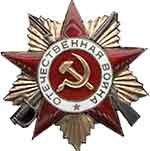 Recipients of
Order of the Great Patriotic War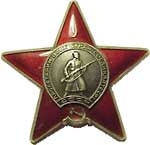 Recipients of
Order of the Red Star