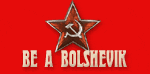 Donate - help our new project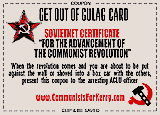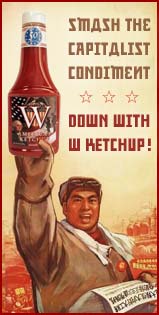 Winner of the competition of "Prettier Motherland Pages, for a Prettier Sovietnet!"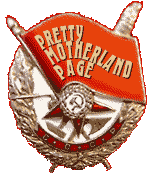 The Politburo "Award for Excellence in Socialist Webdesign in the Youth Collective" is a worldwide recognized symbol of quality for extremely advanced and progressive websites in the Sovietnet of the brother countries of the Comecon (Communist Economies)

End To Swiftboat Controversy
By Red Eye
08/31/04 - 12:44 pm
Reeducation Decree # 402

~

BACKGROUND:
On October 14, 1979, John Kerry described a remarkable event from his days as a Swift boat officer for the Boston Herald:



"I remember spending Christmas Eve of 1968 five miles across the Cambodian border being shot at by our South Vietnamese allies who were drunk and celebrating Christmas. The absurdity of almost being killed by our own allies in a country in which President Nixon [sic] claimed there were no American troops was very real."




Kerry has now turned to Tour of Duty author and John Kerry historian Doug Brinkley for a "modification." Brinkley is providing the New Yorker with an article that says Kerry was not in Cambodia during Christmas, but rather in January.

Initially, the Kerry campaign said that he never claimed to be in Cambodia, only that he was near Cambodia. But when presented with a copy of the Congressional Record and asked about Kerry's letter-to-the-editor in the Boston Herald, the Kerry campaign said it would come up with an explanation.
They have yet to do so. Communists for Kerry are here to help with our reeducation campaign. Don't worry Comrade Kerry, you can still win! We will re-educate Amerika for you!
Internal KGB File

If you are not a party member and are reading this, please save the overburdened tribunal system time and use your side arm to trial yourself.





John Kerry was never shot at by Khmer Rouge and Cambodians. He never took CIA operatives into Cambodia to search for enemy enclaves. In fact, John Kerry's boat never came within 50 miles of Cambodia at any time.

In "Unfit for Command," authors John O'Neill and Dr. Jerome Corsi document the impossibility of Kerry's story:

Despite the dramatic memories of his Christmas in Cambodia, Kerry's statements are complete lies. Kerry was never in Cambodia during Christmas 1968, or at all during the Vietnam War. In reality, during Christmas 1968, he was more than fifty miles away from Cambodia. Kerry was never ordered into Cambodia by anyone and would have been court-martialed had he gone there.

During Christmas 1968, Kerry was stationed at Coastal Division 13 in Cat Lo. Coastal Division 13's patrol areas extended to Sa Dec, about fifty-five miles from the Cambodian border. Areas closer than fifty-five miles to the Cambodian border in the area of the Mekong River were patrolled by PBRs, a small river patrol craft, and not by Swift Boats. Preventing border crossings was considered so important at the time that an LCU (a large, mechanized landing craft) and several PBRs were stationed to ensure that no one could cross the border.

A large sign at the border prohibited entry. Tom Anderson, Commander of River Division 531, who was in charge of the PBRs, confirmed that there were no Swifts anywhere in the area and that they would have been stopped had they appeared.

All the living commanders in Kerry's chain of command - Joe Streuhli (Commander of CosDiv 13), George Elliott (Commander of CosDiv 11), Adrian Lonsdale (Captain, USCG and Commander, Coastal Surveillance Center at An Thoi), Rear Admiral Roy Hoffmann (Commander, Coastal Surveillance Force Vietnam, CTF 115), and Rear Admiral Art Price (Commander of River Patrol Force, CTF 116) - deny that Kerry was ever ordered to Cambodia. They indicate that Kerry would have been seriously disciplined or court-martialed had he gone there. At least three of the five crewmen on Kerry's PCF 44 boat - Bill Zaldonis, Steven Hatch, and Steve Gardner - deny that they or their boat were ever in Cambodia. The remaining two crewmen declined to be interviewed for this book. Gardner, in particular, will never forget those days in late December when he was wounded on PCF 44, not in Cambodia, but many miles away in Vietnam.

The story is a total preposterous fabrication by Kerry. Exhibit 8 is an affidavit by the Commander of the Swift boats in Vietnam, Admiral Roy Hoffmann, stating that Kerry's claim to be in Cambodia for Christmas Eve and Christmas of 1968 is a total lie. If necessary, similar affidavits are available from the entire chain of command. In reality, Kerry was at Sa Dec -- easily locatable on any map more than fifty miles from Cambodia. Kerry himself inadvertently admits that he was in Sa Dec for Christmas Eve and Christmas and not in Cambodia, as he had stated for so many years on the Senate Floor, in the newspapers, and elsewhere. Exhibit 27, Tour, pp. 213-219. Sa Dec is hardly "close" to the Cambodian border. In reality, far from being ordered secretly to Cambodia, Kerry spent a pleasant night at Sa Dec with "visions of sugar plums" dancing in his head. Exhibit 27, p. 219. At Sa Dec where the Swift boat patrol area ended, there were many miles of other boats (PBR's) leading to the Cambodian border. There were also gunboats on the border to prevent any crossing. If Kerry tried to get through, he would have been arrested. Obviously, Kerry has hardly been honest about his service in Vietnam.



By A Concerned Vet
08/31/04 - 11:05 pm

No most of the Cambodians had Chinese weapons, trust me, I saw them. Since the Chinese celebrate Chinese New Year in the American Spring, I think the ones shooting at Komrade Kerry could have been a small minority of Jewish Cambodians celebrating Hannukah.

By A Concerned Vet
08/31/04 - 11:08 pm

What the hell is wrong with the Username thing?

----------------------
We're all better off without user names in the KGB Archives, take my word, comrade.

The theory about Cambodian Jews is a noteworthy one. There's nothing we Communists love more than a hard-boiled conspiracy theory.

The KGB File Master

By Ockham's Razor
09/01/04 - 10:20 am

Comrades, we must broaden our definition of Cambodia. Comrade Kerry would not lie to us.

By Ivan Groznii
09/02/04 - 6:16 pm

In the wise words of Comrade Clinton, it depends on what the meaning of Cambodia is.



Regards, Ivan

By Red Eye
09/02/04 - 7:09 pm

1. Broaden our definition of Nixon
2. Broaden our definition of Cambodia
3. Broaden our definition of Christmas

When information will be controlled by the state this will all be doable, Comrades! Can't wait! Go Kerry!

Red Eye

By Andreas
09/03/04 - 8:27 am

No no, obviously the so-called 'allies' were celebrating the
Tet holiday and wished to show pathetic bourgeois support
of secret agent Kerry's incursion by showing Christmas
tendencies - all records destroyed by Khmer Rouge in order
to eliminate evidence of Kerry's heroic deeds. Party rules
require that no one bothers to think about any of this.

By Tatiana
09/04/04 - 1:23 pm
Every soldier should get a purple heart, a best cooks medal, best driver medal, Order of the Red Star etc etc etc.

Medals are good.

Wear as many as possible especially into battle. This is the communist way. He who dies with the most metals wins. Komrade Kerry already knew this.

Also!

4.5 months is long enough to serve in the military and you donít need any other reason to become Leader of the new America.
By Gaffsongskivet
09/16/04 - 2:27 pm

Yes, John Kerry and I were in Cambodia on Christmas. See, we sneaked the Swift Boat up the river, near the border. Then, we pulled it out of the water and carried it over our heads through the jungle - very, very quietly. It was such a hoot! God, we got so wet! Later that same night, we sneaked our little boat into Paris (which is where we met up with Jane) and partied with all these cool Chinese people. The film crew got lost somehow. Michael Moore was there, too but, I don't think he was fat at that point. That's all I can remember today. I don't know how I can even write this. My hands don't seem to be attached.

By Won Lone Duk
09/17/04 - 11:04 am

Comrades:

When Comrade Kerry becomes Supreme President and Chairman, he will change the name of the United States of America to Cambodia.

This will put paid to Reactionary Fascist mouthpiece reporters and other dangerous Free-thinkers.

Also, once the nation is renamed, nobody will pay any attention to the inevitable difficulties involved in Collectivizing the Means of Production, ferreting out the reactionaries,wreckers,fascists and religious zealots, and re-educating the populace to a true appreciation of the Marxist-Leninist-Maoist-Kerryist Dialectic.

Nobody paid any attention to these "quibbles" in the old Cambodia. ..

Comrades! let our rallying cry be:

"Cambodia by Christmas!"

Won Lone Duck

By Dansk Rathersky
09/22/04 - 1:54 pm

Where is the closest forging apparutus to Austin Texas USSA?

I have immediate need to falsify and create documents concerning a prominent Republican's country club tee off schedule.

Please reach around me at:

drathersky@seebs.com

By Andropovs Drunk Brother
10/16/04 - 1:17 am

Do not be alarmed commrades. Our allies at the amerikan broadcasting center are toiling day and night with our fellow communist brothers in Vietnam to set the record straight. Hundreds of our brethern in the struggle will testify on camera to the heroic actions of Commrade Kerry. Many hand written letters from deceased Vietnamese Officers will also materialize, with stories of how commrade Kerry was a fearless and brilliant leader. How they not only feared him, but were in awe of his uncanny grasp of modern warefare. I'm sure many of these will be posted right here for all brothers and sisters to see.

Commrade Kerry, we salute you.
P.S. Rosa? What u wearing?

Merci for asking.
My body and soul are wrapped in the fleur-de-lis of Comrade Kerry's
revolutionary dream.

Viva La France, the Motherland of the Revolution and Global Testing!




STINGING ROSA



By pootietang
12/26/04 - 12:48 am

hey next time you talk about nixon, don't put a picture of Lyndon Johnson

Comrade Tang,

Thanks for the sharp observation. Indeed, the face over the Nixon's caption is that of Johnson's. We did that on purpose, hoping to help John Kerry get out of the quagmire he put himself in by saying that he was in Cambodia on Christmas Eve of 1968 despite President Nixon's claim to the contrary. Nixon wasn't president then; Johnson was. Please read words surrounding the picture besides the caption.

The Nixon/Johnson part is just one of a few examples of our skills to rewrite history on the fly. There have been others; if your unusually sharp eye hasn't noticed them we must be really good at tampering with your reality.



Red Eye



By smith29
12/26/04 - 10:28 pm

I'm wondering if torresD is registered with you comrades or if she's just another piker Amellcanistic loose bb gun.
Tanks in advance,
29

Page 1 of 1
Powered by

We've run into expenses building this site and spreading havoc on Union Square and beyond. If you like what you see, click below and donate a buck or two for the revolution!

---
Komrads who have paid for @CommunistsForKerry.com
email address can sign in here:



Komrads who want to obtain @CommunistsForKerry.com address click here



---

---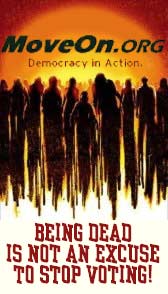 ---
Awards and medals
earned by our youth collective for this website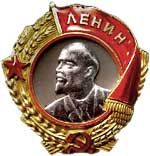 Recipients of
Order of Lenin
for heroic service to the Revolution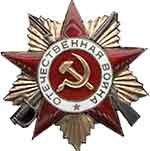 Recipients of
Order of the Great Patriotic War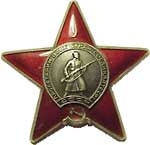 Recipients of
Order of the Red Star